Let's Make Something Beautiful!
Hey there, jewelry maker. Do you want to add wire weaving to your skill set? If so, you've come to the right place because wire weaving mastery begins right here at Door 44 Studios. Start today by downloading my free guide to jewelry wire.
Meet the wire weaver behind door 44
Hey! I'm Wendi.
A lover of copper jewelry, rainy day crochet projects, and all things DIY. And I'm also a pretty good teacher. If you want to explore wire weaving, I can definitely get you started with this wonderful craft. So, pull up a chair, and let's make something beautiful together!
Latest Wire Weaving Posts
I'm veering a bit off topic today because I find myself in a strange cycle of completion. Lately, I've been feeling an urgent need to finish all of the unfinished craft projects that I have laying around my apartment. I have multiple crochet projects in various stages of completion. I also have a needlepoint cushion…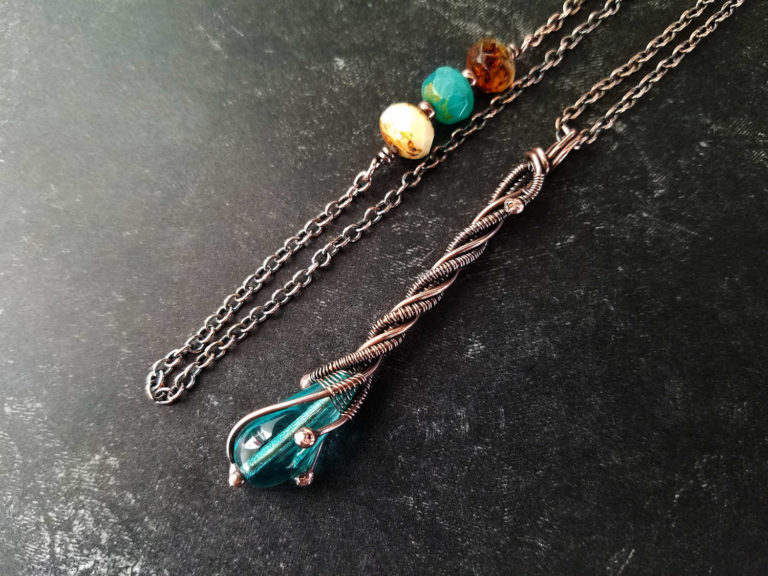 It's springtime in the Rockies, my friend. And I can't think of a better time to kick off the Twig Pendant Make-Along series! The Twig Pendant is by far my most popular design. So it seems appropriate to convert it to a video make-along series first. This design has a distinctly organic feel to it….
Latest Tool Tips
The beautiful thing about wire weaving is that it doesn't require an arsenal of expensive tools. In fact, there are just eight essential hand tools that I recommend for beginners. If you're wondering what those tools are, where to find them, and how to use them, these posts will answer all of those questions. And more!
Latest Jewelry Tutorials
Once you've gathered the tools you'll need and you've mastered a few basic wirework skills, the next step is to begin making jewelry. All of my wire jewelry projects are suitable for both beginner and intermediate jewelry makers. So, let's make something beautiful right now!