Hey there, Wire Weavers! Today I'm going to show you how to quickly and easily replace your nylon jaws.
My old EuroTool nylon jaw pliers were very heavily worn from straightening large gauges wires. Those pliers are about 15 years old and I don't even remember when I last changed the jaws. But I got some replacement jaws recently. And I thought I'd show you how quick and easy it is to replace them. This is a useful tool maintenance trick that will save you a lot of time and headaches. Your nylon jaw pliers will always work best with fresh nylon pads.
My nylon jaw pliers are among the hardest working tools in my kit. And I really should change the jaws more frequently. So should you. Let's get right to it!
This post may contain affiliate links. If you click on a link and then make a purchase, I may earn a small commission (at no cost to you). As an Amazon Associate I earn from qualifying purchases. To learn more, please see my full disclaimer.
Replacement Pads for EuroTool Nylon Jaw Pliers
My pliers are the original EuroTool nylon jaw pliers. EuroTool later came out with a narrow jaw version. So, it's important to be aware that the replacement parts are not interchangeable. The regular size pliers, like mine, have a jaw that is about 11mm wide. And the nylon pads are secured to the pliers with two small screws on each pad.
The narrow jaw pads are attached to the pliers with just a single screw. I've provided links below to both the pliers and the correct replacement pads for each model.
NYLON JAW PLIERS
REPLACEMENT JAWS
Tools Needed to Replace Your Nylon Jaws
You'll need a small flat head screwdriver and/or a small Philips head screwdriver. It depends on whether or not your current pads are attached with nylon screws or steel screws. Either way, it's always a good idea to have a good set of precision screwdrivers handy. They're great for doing this sort of routine tool maintenance.
How to Replace Your Nylon Jaws
Replacing the nylon pads on your pliers is super simple. Just remove the screws from the pads that you're replacing and pop the old jaws off of the pliers. The new jaws fit very snugly. So, if you have trouble getting them on, try sliding them on from the front of the pliers. Watch me demonstrate that technique in the video below.
If your replacement jaws came with steel screws, you do not need to pre-drill holes in the nylon pads. Just twist the screws directly into the nylon pads and be very careful to avoid overtightening the screws. I talk a bit more about that in the video below. So, be sure to watch it now if you have any questions about how to replace your nylon jaws.
If you're like me, you'll probably forget where you found the right replacement pads for your pliers. So, be sure to pin this post. That way you can refer back to it the next time you need to replace your nylon jaws.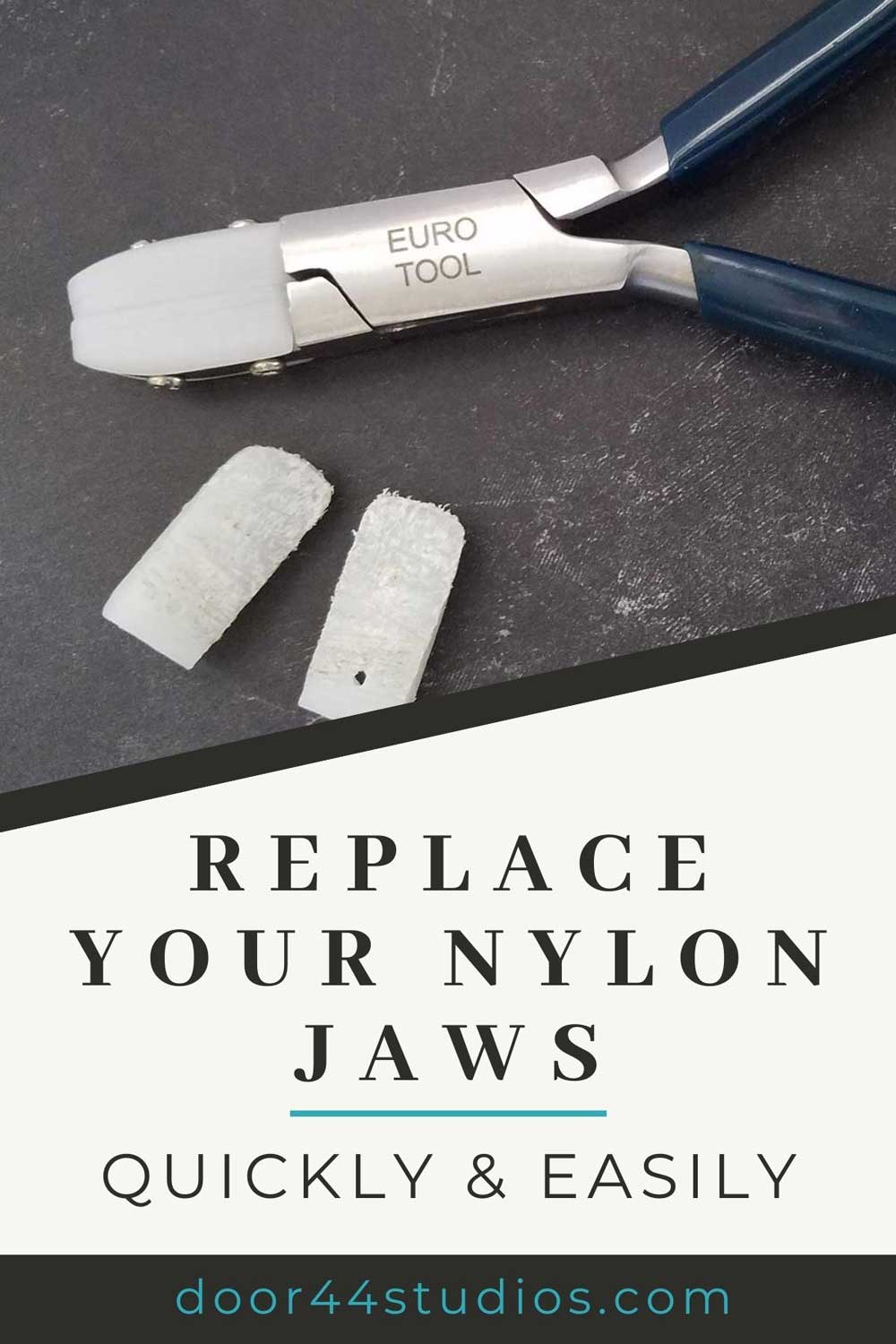 Thank You!
Thanks so much for visiting my blog! I hope this tool tip was helpful. By taking the time to maintain your tools, you'll be sure to get the most out of that investment.
Want free access to more handy tool tips like this one? If so, be sure to visit my free resource library where you'll find lots of helpful wire jewelry resources. Also, be sure to join my private Facebook group, Wire Weaving with Wendi, because I share wire weaving tutorials, tips, and tricks weekly. And as an insider, you'll always be among the first to know what's happening behind Door 44!
Let's Get Social
I like to share useful wire weaving tips and tricks on my social media channels as well. We have some great conversations about wire jewelry on Instagram. So, be sure to connect with me @door44studios on Instagram, and Facebook to keep up with what's happening behind Door 44. And if you haven't already done so, make sure you subscribe to my YouTube channel where you'll find new wire jewelry videos weekly.
Until next time, my fellow jewelry maker, go make something beautiful!