Raising the Bar for Wire Weaving Publications
How many times have you been super excited to buy the latest wire weaving book or tutorial? And how many times have you been disappointed in those purchases? There are no wire weaving masters in my area (that I know of). So I've spent more money on books and tutorials through the years than I care to acknowledge. And I donated all but three of my wire weaving books to the local public library several years ago when we were preparing to move from the Denver metro area to Colorado Springs.
This post may contain affiliate links. If you click on a link and then make a purchase, I may earn a small commission (at no cost to you). As an Amazon Associate I earn from qualifying purchases. To learn more, please see my full disclaimer.
My Favorite Wire Weaving Book
One of the three books that made the cut is Sarah Thompson's first publication, Fine Art Wire Weaving. Sarah raised the bar for wire weaving publications by miles with that first book. There are seventeen projects in the book, ranging from beginner to advanced levels of complexity. I completed sixteen of those projects (many of them multiple times so I could experiment with variations). That's a new record for me. I usually get bored or annoyed with a craft book by the time I've completed one or two projects.
As I mentioned in my last post, my husband bought me a copy of Sarah's latest book, Woven in Wire, for my birthday. I've completed three of the projects so far, and I thought I'd write a review. Just in case you're on the fence about whether or not to buy it.
A Review of Woven in Wire, by Sarah Thompson
This book feels a bit like Sarah had less of a hand in the published version than her editing team. For instance, the mallet and chasing hammer are misidentified on page 9. That's not a mistake that an experienced wire weaver would make. I was also disappointed to find that all the images of work in process are artist renderings rather than photos.
The forward discussions about tools, materials, techniques, and weaves are largely the same as in the first book. There is an additional discussion about fixing and hiding mistakes, however. Sarah also includes an in-depth discussion about how to achieve symmetry. And she provides some useful tips and tricks to help gauge the symmetry of your work as you build it.
The Lilium Bracelet Project
The first project I chose to make is the Lilium bracelet (page 78). This is a Sarah Thompson design that I've long admired for its lovely organic feel. And the finished piece did not disappoint. There are, however, some continuity errors in the instructions for this bracelet.
In the first step, you're instructed to mark the first piece of wire at 2, 3, 3-3/4, 4, and 4-1/2″. Later on in step six, however, you'll find that the first mark should, in fact, have been at 2-1/2″. The original measurements in centimeters from step 1 are correct.
Furthermore, the bracelet described in the instructions is different than the bracelet shown in the main image. There's a slight variation between the photographs of the finished piece and the rendered drawings of the work in progress. So there's a continuity error there. Also, the instructions are a bit disjointed and, in some instances, incomplete. I found this to be true throughout the book. I suspect that's because the editing team produced more of the copy for this book than Sarah herself.
These continuity errors aren't a deal breaker for me. I know enough about wire work to fill in the blanks as I find them. Because of these errors, though, I'd say this book is appropriate for intermediate to advanced wire weavers.
A beginner will likely experience some frustration with the continuity errors in the instructions. I wouldn't try to dissuade a beginner from giving any of the projects a go, however. There's plenty to learn from this book. But if you're a beginner, be aware that you may need to figure out a few things on your own. And that's not necessarily a bad thing. A little independent troubleshooting will make you a better wire weaver in the long run.
The Interlace Bracelet Project
The second piece I made is the Interlace bracelet (page 70). This is another one of Sarah's designs that I've admired ever since I first saw it listed for sale in her Etsy shop. This bracelet is very characteristic of Sarah's style. So much so that I'd have known it was her design if I'd seen it on the street for the first time. There's an edginess to Sarah's work that's uniquely her own. And that's what we all strive for, isn't it? A style that's uniquely our own.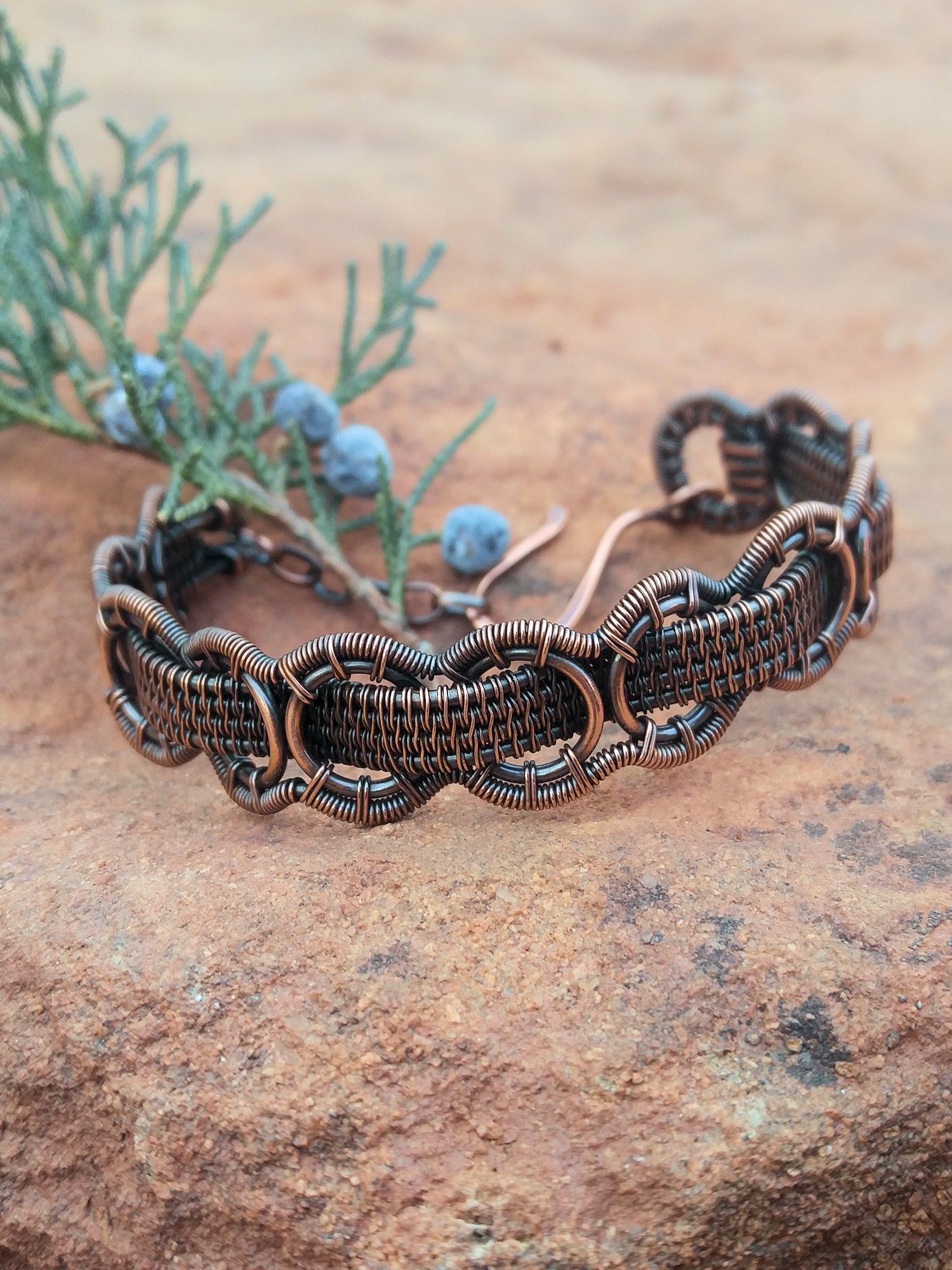 As I mentioned above, there are some continuity errors here. There were a few steps in the process where I found myself wondering, "Wait… Did I miss something?" This piece isn't terribly difficult from a technical standpoint, but threading the two pieces together was a little tricky. The artist's rendering in Fig 10 (page 75) is a little misleading. I needed to exaggerate the accordion forming of the eyelet strip far more than indicated in the drawing. Once that was done, however, the piece came together quite easily.
I like both of the bracelets I've made so much that I plan to keep them for myself. For the purpose of this review, I wanted to make each piece exactly as specified in the instructions (or as pictured, in the case of the Lilium bracelet). I don't care for the clasp on those bracelets, however, so I'll probably replace those at some point.
The Scribble Earrings Project
Next, I tried the Scribble earrings (page 88). I admire all of Sarah's jewelry, but her earrings are truly spectacular. Many of her earring designs have a distinctively tribal feel. And the Scribble earrings are a wonderful example of that look.
These earrings are one of Sarah's most iconic designs. And the process of recreating them gave me a whole new appreciation for her design genius. I'll admit I struggled with this project. A lot. This is not an easy design to duplicate, even with really good instructions.
Of the three projects I made, the instructions for the Scribble earrings are the most complete and well written. I didn't catch any continuity errors in this project. And because the instructions are clear, the earrings came together quickly. Still, I found that my very rusty wire weaving skills aren't currently up to the challenge of this design.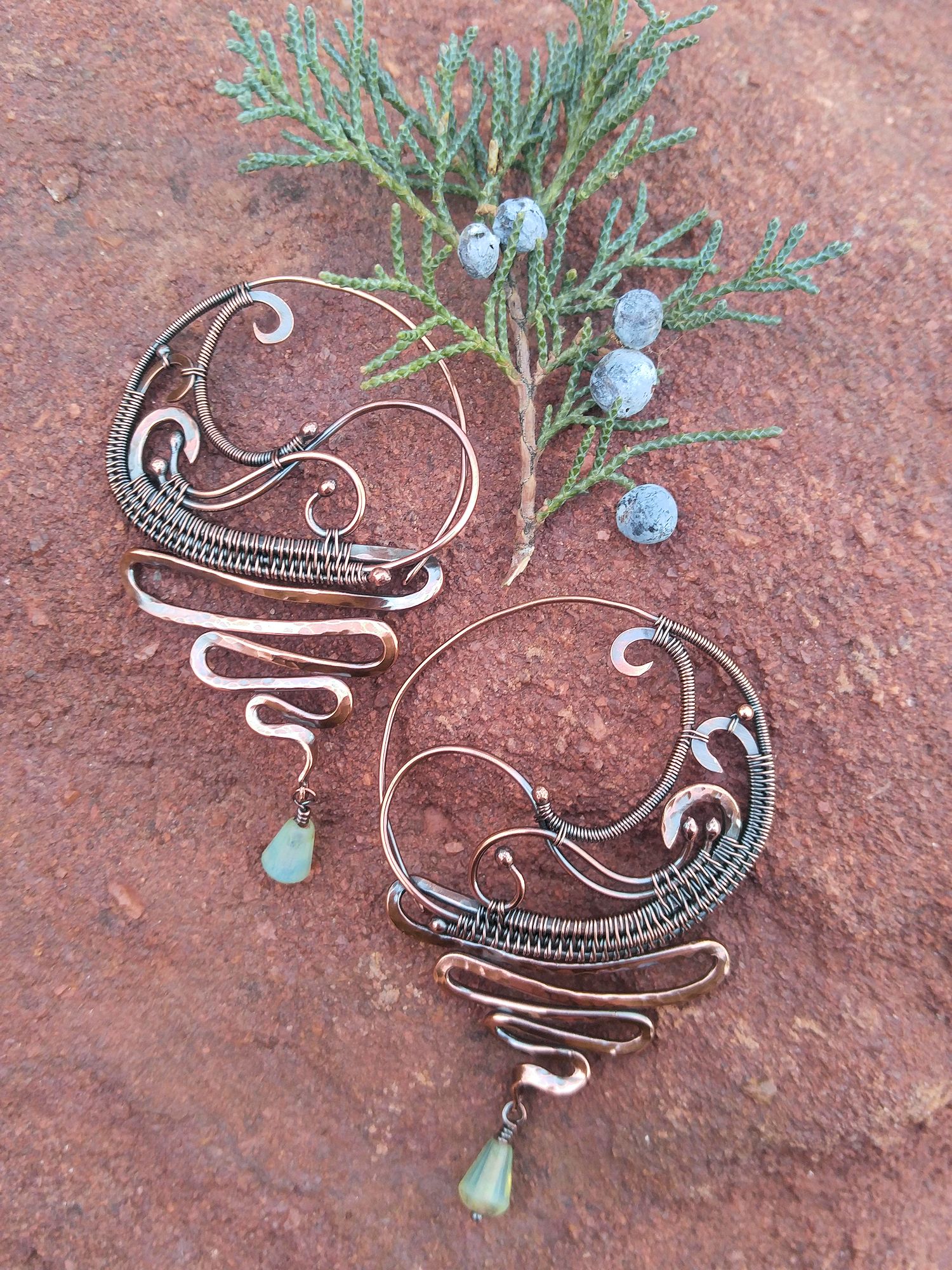 My earrings didn't turn out very symmetrical. Some of my lines aren't as clean and smooth as I'd like. Look closely enough and you'll notice some wrapping errors and tool marks. Note to self: don't step away from the workbench for a year and a half again! To add insult to injury, something went awry with the patina on these earrings. These definitely aren't up to my usual quality standard. Sadly, they're destined for my scrap bin. I do appreciate that they helped me beat the rust off of my skills, though.
Final Thoughts
Rusty wire weaving skills aside, I recommend this book to anyone interested in leveling up their wirework. If you're a beginner, I'd suggest starting with Sarah's last book, Fine Art Wire Weaving, first. You'll get so much more out of Woven in Wire if you take the time to build up some foundational wire weaving skills.
I'm a fan of Sarah Thompson's work. That's no secret, so this review isn't entirely unbiased. I still prefer her first book. If for no other reason that it felt more like she wrote it herself. But I'm also happy that I bought her second book. I hope Sarah continues publishing design books in the future. She has, in my opinion, changed everything when it comes to wire weaving books.
I once read that J.K. Rowling had a terrible time getting the first Harry Potter book published. All the publishers insisted that her sentence structure is too complex for young readers. The voracity with which Harry Potter books have been devoured by young readers since those rejections flies in the face of that claim. I get the same sense with Sarah's books. She raised the bar for wire weaving publications. Twice. Our craft can only benefit as a result of that higher standard.
I'm already writing some tutorials for my own jewelry designs now that I've gotten back into the wire weaving groove. Check out my next post where I share my favorite necklace clasp. It's a super easy and elegant infinity clasp that will add the perfect finishing touch to all of your wire-wrapped pendants. I make my infinity clasp in three different sizes and wire gauges, so it's a very versatile component that works with a whole spectrum of chain weights.
Until next time, my friend, go make something beautiful!