2020 felt a bit like a wild ride on stormy seas to me. The Ride the Wave bracelet design, which I designed in 2020, will forever serve as a reminder for me of that wild ride. Now that the strangest year of our times is behind us, my hope is that this bracelet will also serve as a reminder that sometimes we just need to ride out the storms that come crashing into our lives. Once those storms finally pass, the sunshine always returns.
I hope this fun and easy wire weaving project provides a welcome creative distraction from any storms that might be stirring in your life today. Secondly, I hope that as you wear your own Ride the Wave bracelet, it will remind you of your own resilience. My guess is that you've already weathered a few storms in your life. And you're going to get through this one, too.
How the Ride the Wave Bracelet Make-Along Works
The make-along video series will roll out over the next few days. During that time, the MAL Companion Tutorial will only be available to my email subscribers, here on the blog, and through my YouTube channel. It will not be available in my Etsy shop until the make-along video series is complete.
Once all of the guided video tutorials are live, I'll update the companion guide to include links to those videos, and I'll make it available in my Etsy shop for the full price.
For a limited time, you can save 25% on the Ride the Wave MAL Companion Tutorial. It's an early bird special for those who join the make-along while the videos are still in production. That's just my way of saying thanks for your patience while I create the guided make-along videos and get all of the moving parts linked together.
Step 1 – Download the FREE Ride the Wave MAL Starter Guide
I've created a FREE Project Starter Guide for this make-along series, which you'll find in my resource library. That guide contains all the basic information you'll need to make this project successfully (for free) using just the video instruction alone.
There, you'll find a complete list of all the tools and materials that you'll need for this design. You'll also find some helpful notes about the design, such as finished size and skill level recommendations, along with links to additional tutorials and resources that you might find helpful.
Do you need a password to get into my resource library? No problem! Just complete and submit the form below (or the one at the bottom of this page) and you'll receive a password instantly.
---
If you'd like a detailed printable tutorial, you can buy the Ride the Wave Bracelet MAL Companion Tutorial, which contains all of the information included in the free starter guide plus detailed step-by-step written instructions and loads of detailed process photos. The tutorial also contains tips and tricks that aren't covered in the free video tutorials.
Do you prefer to work from written instructions? Or do you like to take notes while watching video tutorials online? Either way, the written tutorial will be useful for your!
If you bought the original Ride the Wave tutorial, you may be wondering, what's changed? Do I really need the upgraded guide?
Well, as far as the bracelet construction goes, not much has changed. I've clarified some details in the instructions, I've updated some of the images, and I've created space for you to record notes on any modifications you've made to the design. But I've also added more helpful tips and easy access to additional training resources. Such as the Modified Soumak Weave, the Figure 8 Weave, and the How to Use a Chasing Hammer videos, for instance.
These skills are essential for the Ride the Wave design. But one of the issues with the original tutorial is that I couldn't find great outside references for those skills. So, I had to create my own!
Download the Ride the Wave Bracelet Companion Tutorial today and save 25%. Just click the button below to grab your copy of this fun tutorial.
Join the Ride the Wave Bracelet Make-Along Today
And save 25% on the printable tutorial, which contains all the information you'll need to make the Ride the Wave bracelet successfully. Again and again!
Step 2 – Gather Your Tools and Supplies
You'll find shoppable links to most of the tools and supplies that you'll need for this project below. Wherever possible, I've linked to the same sources that I use myself. I've also linked to at least one alternative source for each item as well. Just in case you can't find what you need through my primary source. Or maybe you simply prefer to shop elsewhere.
This post may contain affiliate links. If you click on a link and then make a purchase, I may earn a small commission (at no cost to you). To learn more, please see my full disclaimer.
Tools Needed to Make the Ride the Wave Bracelet
Wire Cutters – Any sharp side cutters will do. Just make sure that your wire cutters are designed to cut heavy gauges of wire. I have an old pair of heavy duty wire cutters that I use just for cutting wire that's heavier than 16ga.
Stepped Bail-Making Pliers – This is one of my favorite tools. I use them on nearly every piece of jewelry that I make.
Round Nose Pliers
Flat Nose Pliers
Needle File
Chasing Hammer
Bench Block – As an apartment dweller, a sound dampening bench block is super important for me. I've linked to the same bench block that I use from Amazon. However, there are lots of things to consider when buying a bench block. So, I've linked to alternative options on Etsy as well.
Ruler – A good stainless steel ruler is always a good thing to have on hand at your bench, but you can use any kind of ruler. My go-to ruler is an old scale that I've had since high school. It's beat up and worn, but it's still the first tool that I reach for whenever I need to measure a length of wire or chain. So, grab whatever you have around the house. Or borrow a ruler from your kids!
Fine-Point Permanent Marker – This is another thing that I consider essential. So, I buy them in bulk.
Ring Clamp (Optional) – This is rapidly becoming one of my most essential tools. I've started to feel the first twinges of arthritis in my hands recently, so I've been letting my ring clamp do more work for me. And my hands are grateful!
Kumihimo Bobbin (Optional) – You'll see me using one of these bobbins in the make-along videos. I very rarely measure and pre-cut weaving wire anymore. I just keep a bobbin loaded with weaving wire at all times, and I work directly from that.
Sanding Boards (Optional) – I buy my sanding boards from Rio Grande. I've looked for a comparable set of assorted grits from other sources with free shipping options. But I haven't been able to find one that I like. Most of the assortments that you'll find elsewhere are made for resin jewelry. And those grits are actually too fine for our needs as metalsmiths. So, here's a link to the exact same sanding boards that I use and love.
Sandpaper (Optional) – I prefer to use sandpaper that's designed for working with metal. I buy my sandpaper from Amazon, which is what I've linked to below. You'll need three grits: 800, 1500, and 2000.
Bracelet Mandrel (Optional) – Bracelet mandrels come in several different shapes and materials. I prefer oval shaped bracelets, but I also have a round mandrel. Both of my mandrels are solid wood.
Soft Mallet (Optional) – A soft, non-marring mallet comes in very handy when shaping bracelets on a mandrel. This is a great tool to have in your jewelry-making kit.
Materials Needed to Make the Ride the Wave Bracelet
I buy my wire on one-pound bulk spools almost exclusively from Rio Grande. You can also buy 4-ounce spools for some wires through Rio Grande, and that's perhaps a better option if you're not ready to commit to buying in bulk.
Also, please note that I use solid copper wire almost exclusively. So, all of the links below are for copper wire. That being said, these sellers also carry other jewelry wire alloys, including silver, brass, and bronze. My advice is to shop around to see where you can get the best price on your preferred wire.
14ga Dead Soft Wire – about 24 inches (61 cm) per bracelet
28ga Dead Soft Wire – about 60 inches (152 cm) per pendant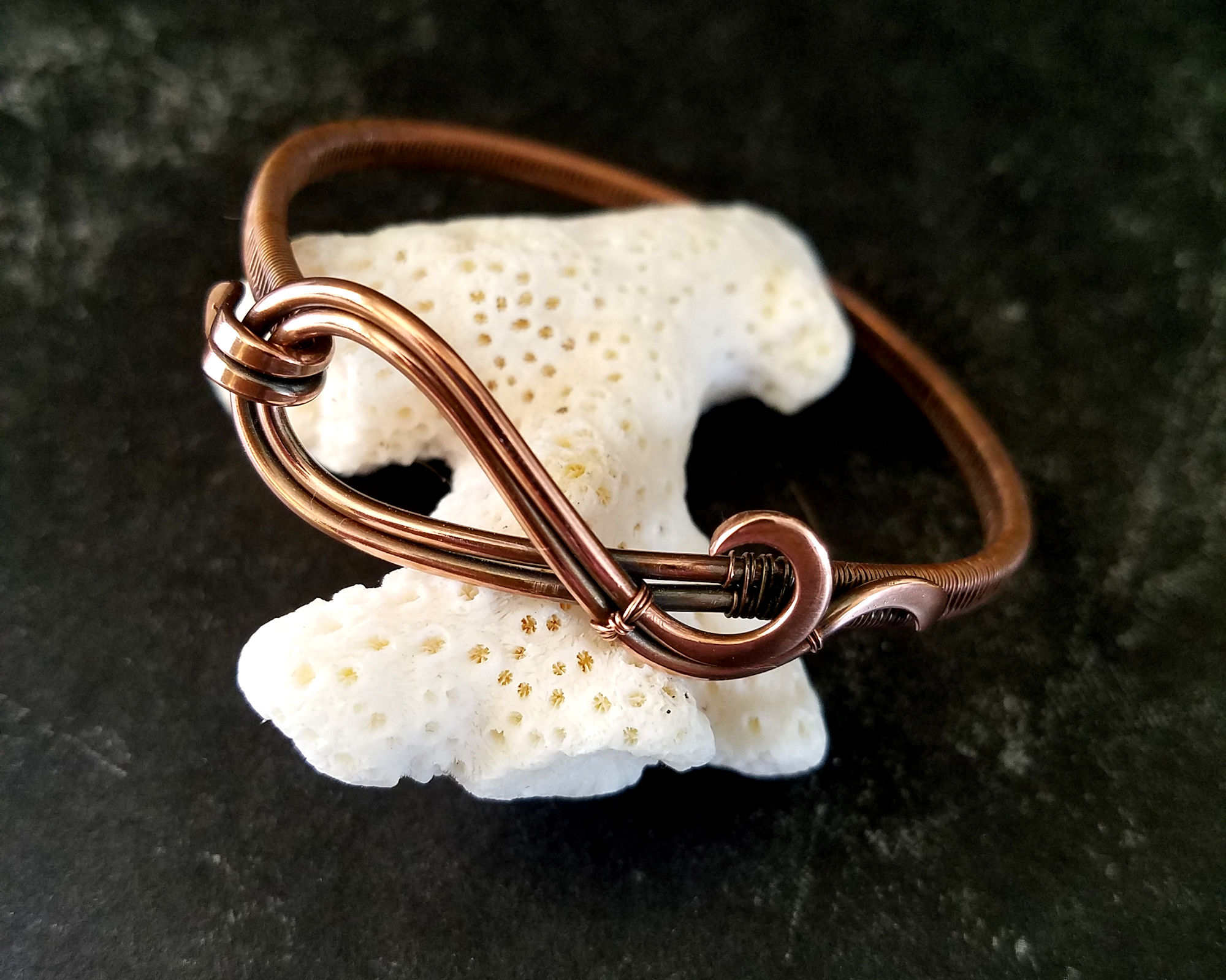 Download the Printable Tutorial for This Bracelet
Save 25% on the Ride the Wave bracelet tutorial today! This full color project workbook provides easy access to everything you'll need to make this design successfully. All in one document!
Finished Sizes
I've provided all the information that you'll need to create three common bracelet sizes: Small (7 inches), Medium (7.5 inches), and Large (8 inches) in the free project starter guide. These measurements are based on the inner circumference of the bracelet.
Bracelet size is a very personal choice for people. Some like a close fit (that would be me). Others like a looser fit. If you need a larger size or a half size in between the three sizes specified, use the material specification for the next size up to make sure you have enough wire to achieve the fit that you're after.
For more detailed instructions for resizing this bracelet, refer to the the free project starter guide, which is available in my resource library.
Don't have a password yet? Get your password for my resource library instantly by completing the form below.
---
Skills Needed to Make the Ride the Wave Bracelet
You'll need to know how to use a chasing hammer for this tutorial. And you'll also need to know at least one 2-core wire weaving pattern. You can use any pattern you like for this design. I'm particularly fond of the Modified Soumak Weave and the Basic Figure 8 Weave.
Step 3 – Let's Make a Ride the Wave Bracelet Together!
Now that you've downloaded your free project starter guide and/or the full printable tutorial, and you've gathered all the tools and supplies that you'll need, let's get started! Just click the video thumbnail below to watch Part 1 of the Ride the Wave Make-Along Series.
In this video, well form the clasp and the waves on our bracelet frame. And we'll also sand and polish the frame to perfection. Then we'll finish our bracelet in Part 2 of this series.
In Part 2 of the Ride the Wave Make-Along, we'll finish the bracelet that we started in Part 1 of this series. We start by weaving the two sides of the bracelet frame together. Then we'll finish off the bracelet by securing the waves in place and forming the woven band into a bracelet.
Want to be among the first to know when new videos are released? Be sure to subscribe to my YouTube channel and turn on notifications.
Finishing Suggestions
I antiqued the Ride the Wave bracelet that I made while writing this tutorial with Liver of Sulfur (LOS). And then I burnished the antiqued piece with super fine steel wool (Grade #0000) in a warm bath of water and original Blue Dawn dish soap. The steel wool brings back the bright copper highlights on the high spots.
Once that's done, I rinse the bracelet thoroughly to remove any particles of steel wool. And then I put it in a tumbler barrel filled with warm water and a generous squirt of Blue Dawn. I tumble each bracelet for at least two hours.
If you're new to wire weaving, be sure to check out my 7-step patina process. And if you're wondering why I recommend tumble polishing specifically, check out this post. Also, be sure to clean your stainless steel shot regularly. Clean shot is necessary to achieve the best finish on your tumble-polished jewelry.
One last bit of tumbler advice before you go. Always make sure that any beads or stones that you use for your jewelry are safe to tumble. I don't recommend tumbling natural pearls, soft gemstones, ceramic beads, or glass beads with polymer coatings, such as glass pearls and certain frosted-look glass. As always, if you're unsure if your beads can handle the tumbler, run a test tumble with a bead that you're willing to sacrifice.
Don't forget to grab the free Ride the Wave Bracelet Project Starter Guide, which provides all the specifications for this design, along with some additional helpful resources.
You'll find the free guide in my resource library, which is password protected. Need a password? Just complete the form below and you'll receive your password instantly!
---
Thank You!
Thanks so much for participating in the Ride the Wave Bracelet Make-Along! I hope this project resource guide and the accompanying video tutorials help you master all of the skills you'll need to put your own unique twist on this fun design.
Want to learn to make more versatile wire jewelry designs like this one? If so, be sure to subscribe to my email list because I have lots more jewelry make-along tutorials in the works. As a Door 44 insider, you'll always know what's happening behind Door 44!
Let's Get Social
I like to share useful wire weaving tips and tricks on my social media channels, and we have some great conversations about wire jewelry on Instagram. So, be sure to connect with me @door44studios on Instagram, and Facebook to keep up with what's happening behind Door 44. And if you haven't already done so, make sure you subscribe to my YouTube channel where you'll find new wire jewelry videos weekly.
Until next time, my friend, go make something beautiful!