Getting Back in the Wirework Game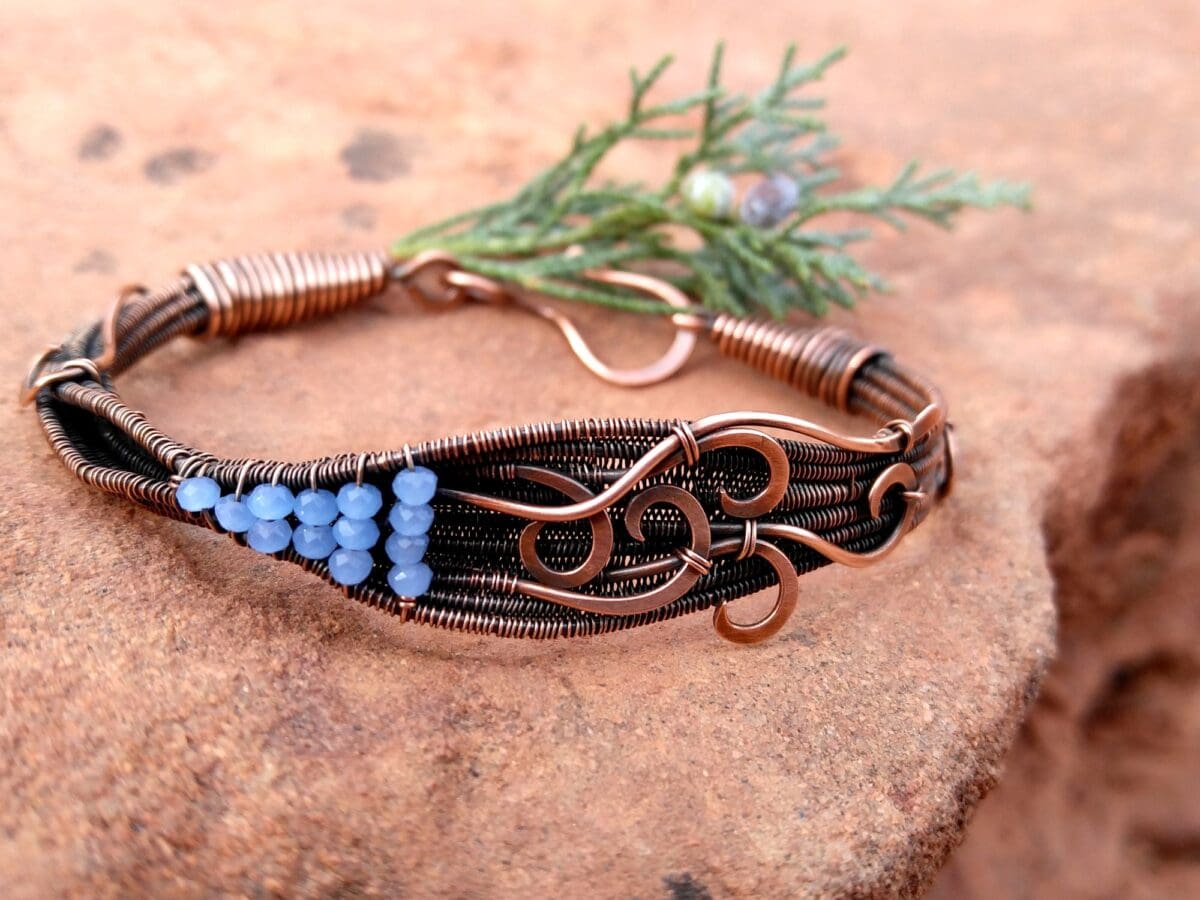 I just finished weaving the first piece of wire jewelry that I've made in more than a year. It's actually been even longer than that, now that I think about it. Where did that time go?! My hands are sore. My nails are trashed, and my skills are undoubtedly rusty. This isn't my best wirework by a long shot, but it feels great to get my hands on wire again.
This post may contain affiliate links. If you click on a link and then make a purchase, I may earn a small commission (at no cost to you). As an Amazon Associate I earn from qualifying purchases. To learn more, please see my full disclaimer.
There's some question of the wisdom of tackling Sarah Thompson's Lilium bracelet from her latest book, Woven In Wire, as my first wirework project after being away from my bench for so long. But it's SO beautiful. I couldn't resist!
Finding the Right Wirework Inspiration
If you're familiar with my wire jewelry, you've probably heard me talk about how much Sarah has influenced my designs. Her first book, Fine Art Wire Weaving, was a total game changer for me. I'd been working with wire for quite a while before I found Sarah's work. And I was pretty frustrated with my chosen medium at the time.
There are a handful of well-known wireworkers who have a heavy influence on the collective wirework consciousness. Although I appreciate the work of those artists, none of them truly captured my imagination. There was something missing for me, but I couldn't put my finger on it.
Don't get me wrong. Their work is incredible, and they're extremely talented artists, jewelry designers, and teachers. Yet, none of their styles really resonated with me on that deep level that makes you stop and say, "Yeah. This is it. This is the direction that I want to go!"
Figuring Out What Works
When I discovered Sarah's wirework, I finally experienced that resonance. I first stumbled across her jewelry on Etsy, and it wasn't long after that that she published Fine Art Wire Weaving. I'm fascinated by her unique ability to create designs that are at once elegant and edgy.
Sarah's work is what inspired me to push boundaries and figure out who I am as a jewelry designer. She also helped me realize that I have some very specific preferences when it comes to wirework. For instance, I prefer dense weaves over open weaves. I crave symmetry and order over more organic and spontaneous designs. Most importantly, I'm drawn to simplicity over complexity. Essentially, Sarah helped me make the leap from imitator to designer. I hope to pay that favor forward by using my blog to help you make that leap as well.
Finding My Own Wirework Style
I love all the beautiful layers and 'heady' wirework pieces that I see out there today. They're truly stunning little works of art. Yet, much as I admire them, I'd never wear such elaborate jewelry. It's just not me.
I'm a Colorado girl with a super casual style. Pass me on the street and you'll find me wearing jeans, a t-shirt, and maybe a cardigan that I crocheted myself. Or maybe my favorite fleece jacket. Spending time outdoors is my jam, and what catches my eye are nature's finest details. Things like pretty rocks and dew drops on leaves or the shimmer of clear mountain water in a rushing stream. My life-long connection to nature is what informs my personal style. Hence, my wirework plays a supporting role while the gemstone beads I choose are the featured stars.
What first drew me to wire jewelry was the gorgeous textures. It's those textures that I use to create beautiful frameworks for the pretty rocks and shiny beads that I adore. I don't do a lot of layering. I like to repeat certain elements; and clean, simple lines make me happy. That's how my own casual style of wire jewelry was born and continues to evlove. My wirework features subtly textured wire woven elements combined with natural gemstones and pretty glass beads.
What's Your Wirework Style?
What's your personal style? Have you found it yet? I'd love to hear about your own wirework journey, so please share your story below in the comments section.
If you want to learn more about Sarah Thompson's latest book, Woven in Wire: dimensional wire weaving in fine art jewelry, check out my recent book review. And if you'd like to explore my simple wirework style, be sure to explore all that Door 44 Studios has to offer.
I like to share useful wire weaving tips and tricks on my social media channels, and we have some great conversations about wire jewelry in my private Facebook Group. Also, be sure to connect with me @door44studios on Instagram, and Facebook to keep up with everything that's happening behind Door 44. And if you haven't already done so, be sure to subscribe to my YouTube channel where you'll find new wire jewelry videos weekly.
Until next time, my friend, go make something beautiful!