The Dos and Don'ts of Using Other Artists' Jewelry for Inspiration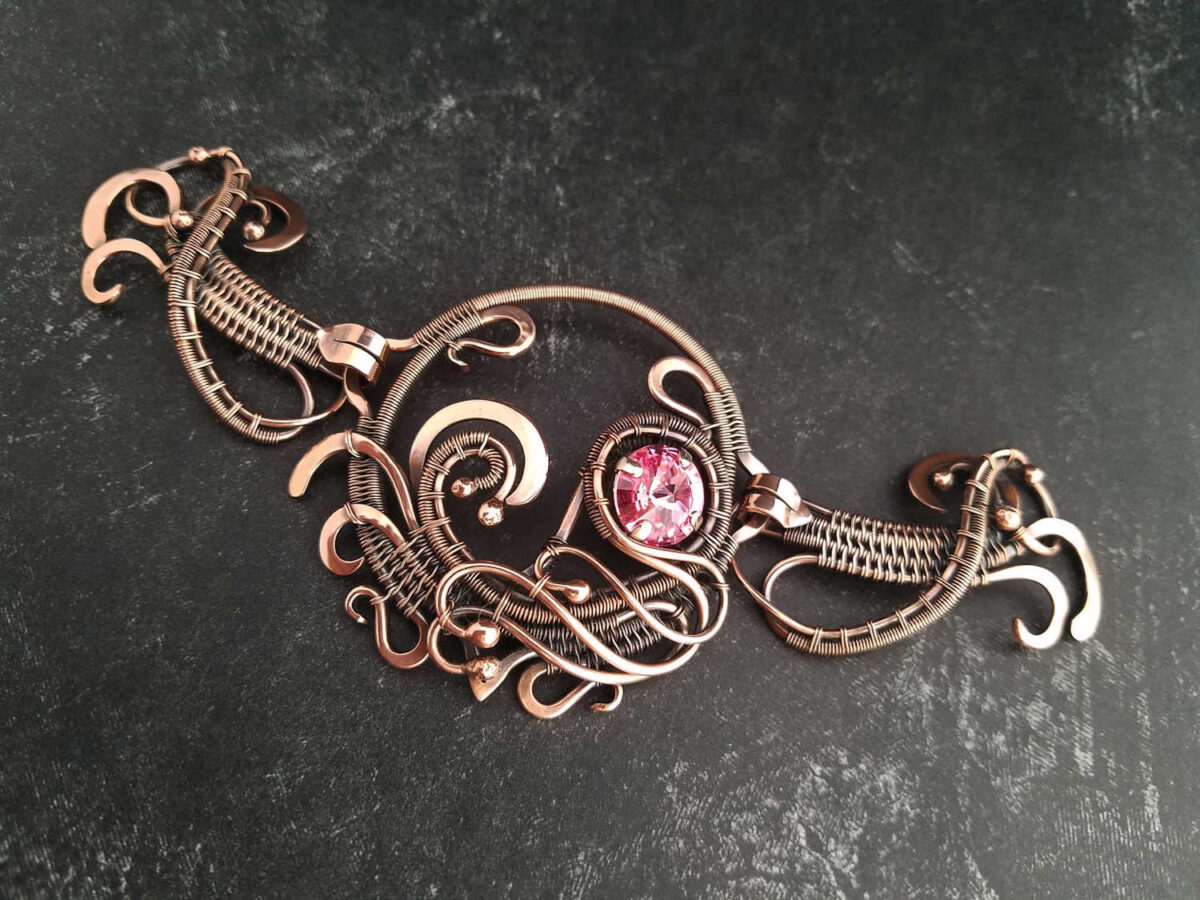 If you're anything like me, I'll bet you see a lot of jewelry. My social media feeds are flooded with amazing jewelry designs. Every. Day. So much so, that it's almost impossible to avoid being influenced by those designs. And that begs the question, where's the line between 'inspired by' and 'copied from' when using other artists' jewelry for inspiration?
This is such an important topic for artists in any niche to talk about. I found loads of great articles and videos online for writers, musicians, painters, and fashion designers. But this discussion isn't one that happens openly enough or often enough among jewelry makers, in my opinion.
So, let's talk about it. When is it okay to draw inspiration from another artist's design? And where does 'inspired by' cross the line to become 'copied from'?
This post may contain affiliate links. If you click on a link and then make a purchase, I may earn a small commission (at no cost to you). As an Amazon Associate I earn from qualifying purchases. To learn more, please see my full disclaimer.
The Difference Between 'Inspired By' and 'Designed By'
I have some strong opinions on this subject, and because I'm a teacher, I think the best way to illustrate my point is with real world examples. So, let's start with a necklace that I made for myself recently (pictured below).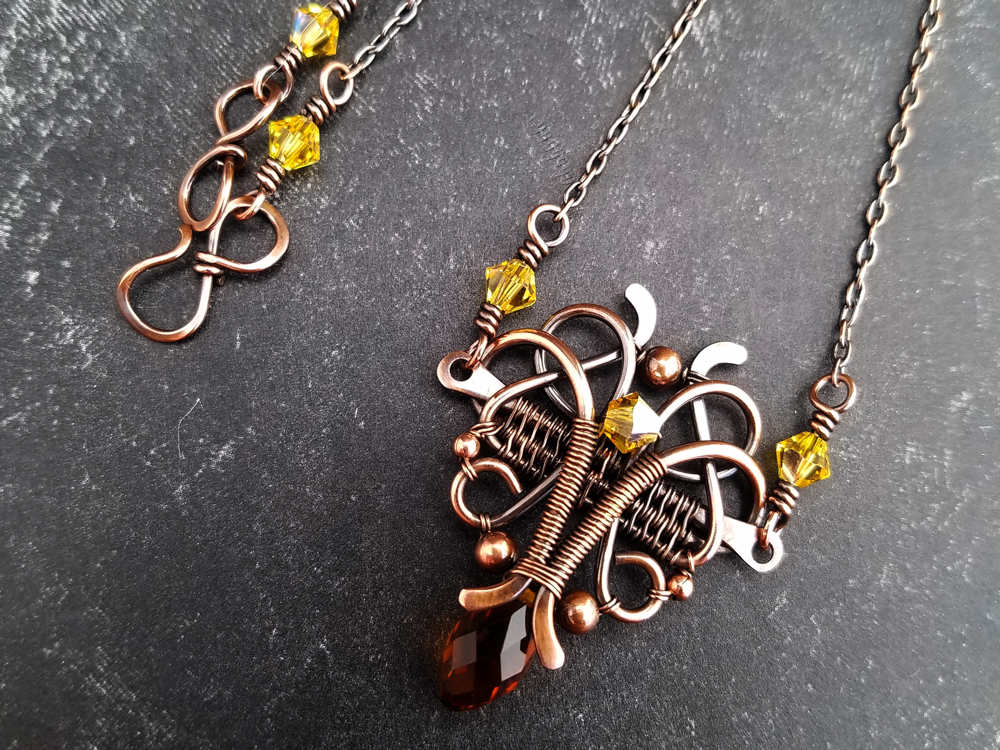 This is the Florence Pendant by Sarah Thompson of Sarah-n-Dippity.com, and it's one of my favorite projects from Sarah's first book, Fine Art Wire Weaving. I find that making a piece of jewelry, just for the fun of it, is a brilliant cure for a stubborn case of creative block. So, I made this piece a few weeks ago while working through creative block on a private commission.
Let's look at the differences between my Florence Pendant and the finished piece that Sarah features in her book. The most obvious differences are that I used copper wire instead of silver. I also chose different colors for my accent beads. But take a close look at the lines of my piece, and you'll see that they're different as well
My pendant is more elongated on the vertical plane, as you can see in the side-by-side comparison below. Yet, even with all those clearly visible differences, my pendant is not substantially different than Sarah's.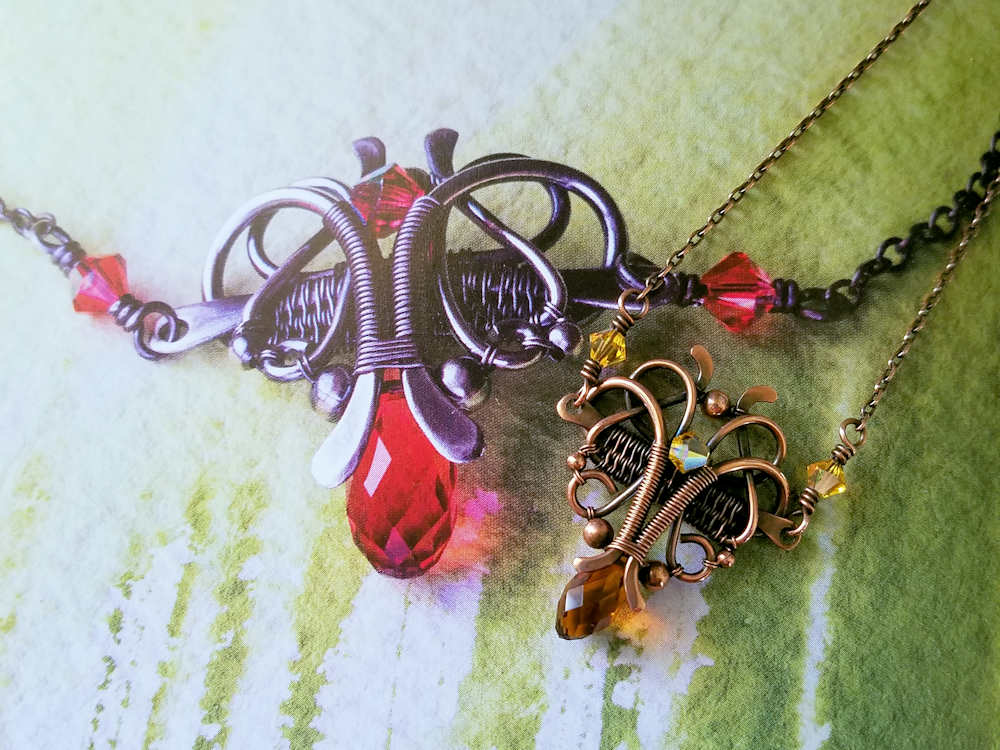 It's still immediately recognizable as Sarah's original design. So, even though I crafted this pendant with my own two hands, it's clearly designed by Sarah Thompson. And it must be credited as such.
What Does 'Substantially Different' Mean?
Substantially different. That's the bar that legal experts use to measure copyright infringements in the art world. So we all need to understand what that phrase really means. (Side Note: You can learn more about copyright law in this post. Today we're focusing just on the practical dos and don'ts of using another artist's jewelry as inspiration.)
So, what's the real difference between a variation of a design and an entirely different design? We artists tend to be visual learners. So again, let's pick this apart with a few examples from my own work.
Take a look at one of my most recent pieces below, the Freyja Clasp. This was a private commission that I finished in December. My customer (a life-long friend) mentioned that she really liked the Rosewood Pendant while we were discussing her project. So I used that pendant as a jumping off point when I began designing her clasp.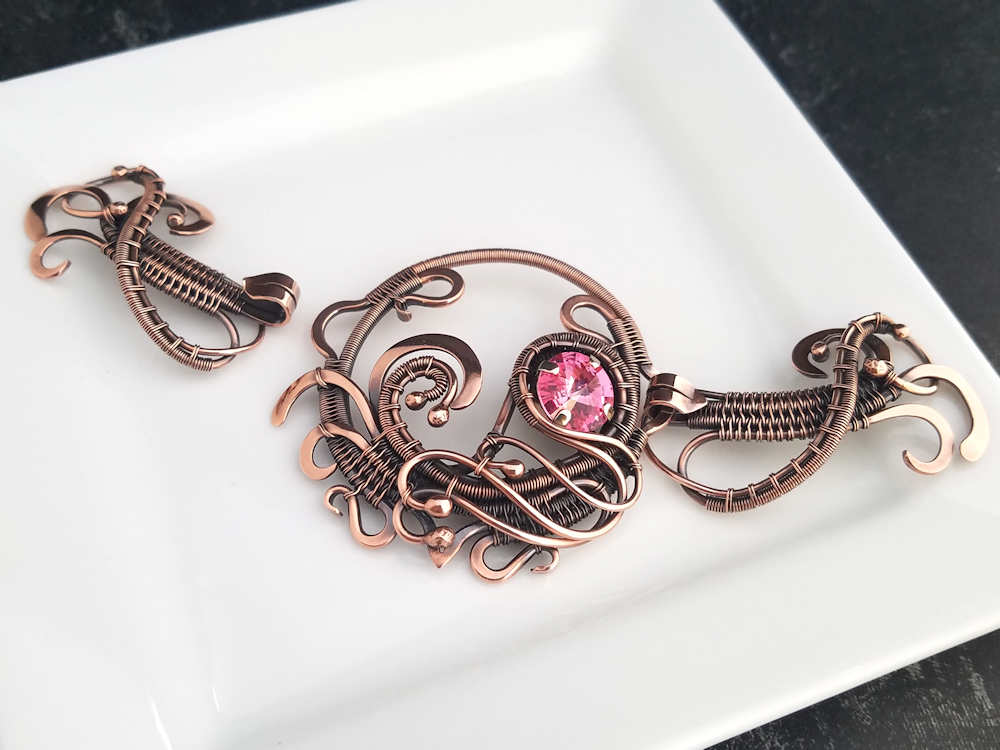 I also needed a sturdy hook for the clasp, which I prototyped in my Ride the Wave Bracelet design. Now, even though all three of these designs are my own, they provide the perfect illustrations for this discussion.
If you look carefully at the Freyja Clasp above, you'll see that I actually used a variation of the Rosewood Pendant to create the frame for the jeweled centerpiece. And if you look carefully at the Ride the Wave Bracelet, you'll see how that design influenced, not just the hooks on the Freyja Clasp, but the overall theme of curling ocean waves as well.
The Freyja Clasp is substantially different than either the Rosewood pendant or the Ride the Wave Bracelet because it's neither a pendant nor a bracelet. It's a functionally different kind of jewelry — a clasp. And, although the influence of the Rosewood and the Ride the Wave designs are plainly evident, you can't look at Freyja and say that it's a copy of either of those two influencing designs.
It uses elements of those designs, yes. But it's a substantially different design that stands alone. And that's the difference between 'inspired by' and 'copied from'.
How to Draw Inspiration from Another Artist's Jewelry Designs
In the discussion about the Freyja Clasp above, the three designs in question are all my own. That's not quite the same thing as using another artist's work as inspiration, though. So, I decided to make myself a pair of earrings that coordinate with my Florence pendant. And I did so with the intent to demonstrate exactly how you can draw inspiration from another artist and still create your own unique and original design.
I'm pleased to introduce my new Fleur de Lis Earrings, pictured below with the Florence Pendant that inspired them. Don't worry. There's a tutorial for the Fleur de Lis design coming soon!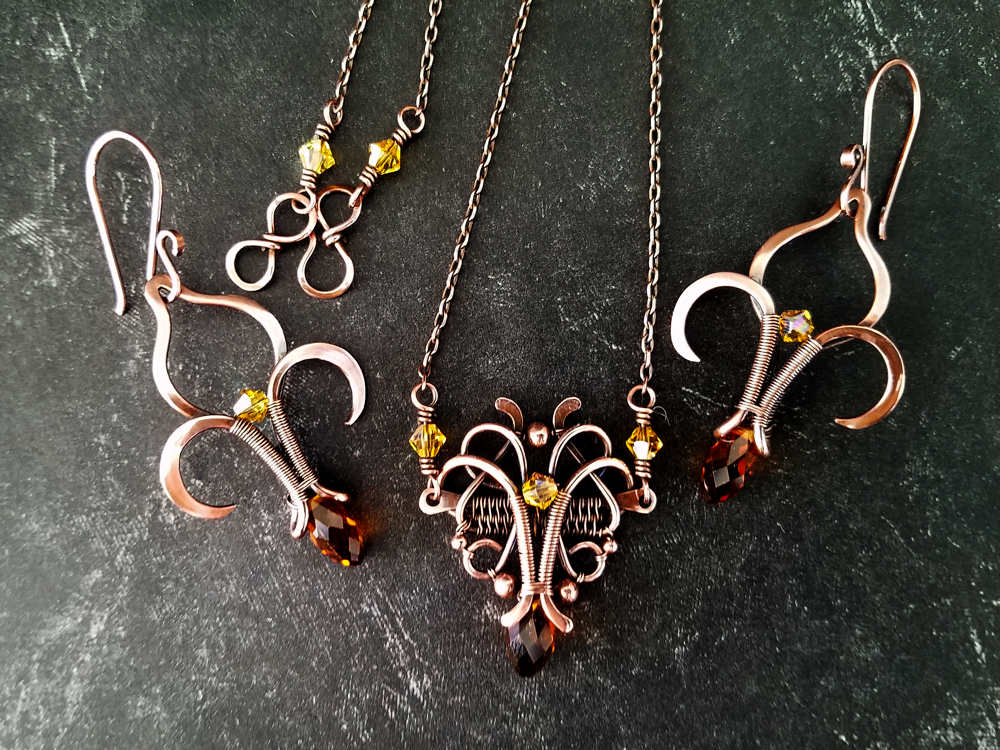 I've wanted to create a Fleur de Lis piece for ages. It's such a classical design element and one that I adore. But I never fully fleshed out my own take on the classic Fleur de Lis. That is, until I made my most recent Florence Pendant.
I say recent because I've made several Florence pendants through the years. I've even made some earrings using the Florence pendant design. But I didn't want matching earrings to wear with my new Florence pendant. Truth be told, Florence is a bit fussy for my personal tastes.
Don't get me wrong. I like pretty much everything Sarah Thompson has ever created. But, when it comes to my own jewelry style, I lean toward much cleaner and simpler pieces.
The long, graceful lines on my more elongated version of Sarah's design, highlighted below, provided just the shot of inspiration that I needed to finally bring my Fleur de Lis idea to fruition.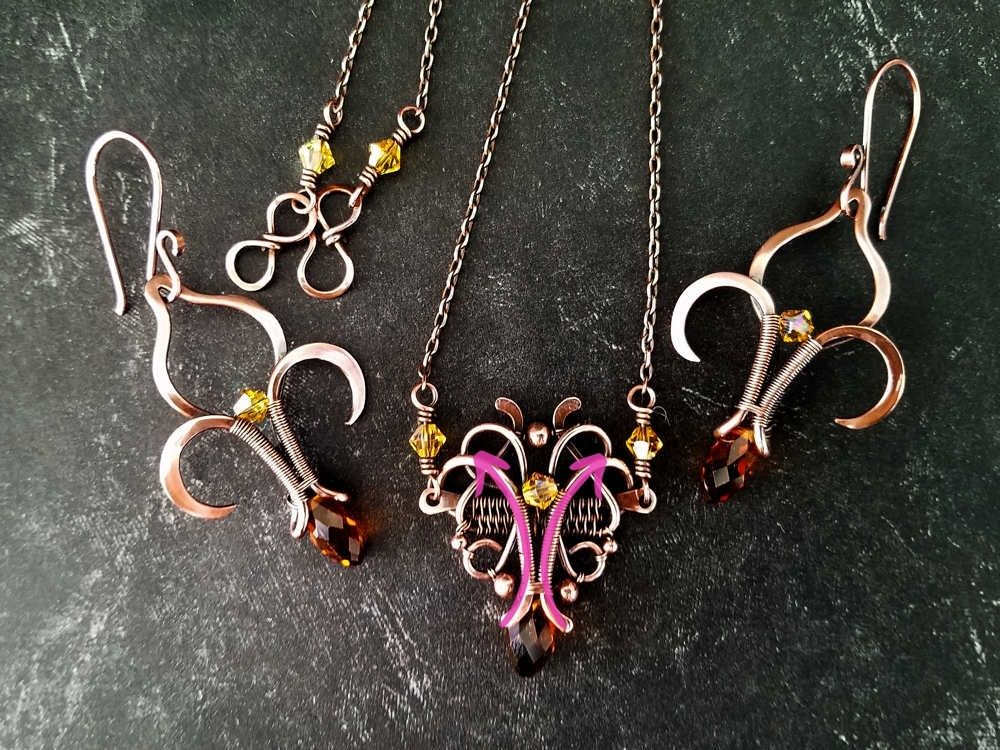 Sarah's Florence Pendant clearly inspired my Fleur de Lis earrings, but notice how different my design looks next to hers. Sarah used four different core wires in three different gauges in her design. Those core wires are woven together on a horizontal plane and then layered over and under one another to form a complex filigree effect.
The engineering of this pendant is absolutely brilliant. It's one of the reasons that I love this design so much, but it's an intermediate level project. And I wanted to create a simpler design that will build a beginner's confidence.
I did that by making my earrings using a single piece of 16ga wire formed on a vertical plane. There's a hint of layering, but the overall design isn't nearly as complex as Sarah's pendant. The Fleur de Lis design uses much more basic construction techniques. Yet Sarah's influence on my design is quite clear. Can you see it?
That, my friend, is the difference between inspired by and copied from. Now let's go over a few guidelines to help you stay on the right side of that line as you develop your own unique jewelry style.
The
DOs

of Using Other Artists' Designs for Inspiration
Do choose a single basic element (two elements, at most) from your inspiration to echo in your own design.
That element can be a specific line, as illustrated in the example above. It can be a combination of colors or shapes. What you're looking for is a jumping off point. Not a complete framework for your own design.
Do be intentional about creating an original design using different methods of construction than your inspiration piece.
You can see this approach clearly demonstrated in the images above that show my earrings and the pendant that inspired them side-by-side. I chose a significantly different method of construction, which resulted in a substantially different design. There's that phrase again.
Do consider drawing inspiration from something besides (or in addition to) other jewelry designs.
I often look to nature, architecture, and graphic design for my own jewelry inspiration. The Fleur de Lis element has been on my mind for years because it's featured on the finials of the steel perimeter fence at my daughter's school (an example of architectural inspiration).
Do keep a sketchbook with you at all times.
You're an artist. I'll bet you don't think you are, but it's true. And as an artist, it's important to develop a regular habit of doodling and jotting down notes about the things that inspire you. Trust me. It works!
The
DON'Ts

of Drawing Inspiration from Another Artists' Jewelry
Don't keep another artist's design in front of you while you work on your own design.
That's a recipe for creating a copy. I could have easily tweaked Sarah's pendant design into a complex filigree Fleur de Lis. All the elements are already there. It would only be a matter of making a few simple changes. But my intent was to create a design in my own personal style. Not hers.
Go ahead and study your inspiration piece. But once you've chosen the one element that you plan to use, put that image aside and don't look at it again until you're finished with your own design.
Don't rely on a single piece of jewelry for inspiration.
Design is like cooking. The more ingredients that you add to your recipe, the more complex and satisfying the dish. Sarah's pendant is just one of several ingredients in my earring design. I added a dash of architectural design along with my end goal, which was to create a beginner-friendly jewelry design that I could turn into a tutorial.
That goal created an opportunity to emphasize specific metalsmithing skills. I wanted this tutorial to help you learn to create mirror image earrings while also practicing skills like forming perfectly round curls, hammering, texturing, filing, and sanding. And all of those ideas and goals and teaching objectives went into this one simple and elegant earring design.
We live in a big beautiful world, my friend. Explore it and let it flavor your designs!
Don't listen to that negative voice inside your head that insists you're not a jewelry designer.
Design comes easier to some than others. Sarah and I actually chatted about this once a few years ago while I was taking one of her courses. Design doesn't come as naturally to me as it does to her, but all of us are capable of creating original designs.
You're drawn to this craft because your inner jewelry designer is yearning for the freedom to express itself. Let it out!
Don't get so immersed in another artist's work that you smother your own emerging style.
This last point is so incredibly important. I love Sarah's designs, and her influence is clear in our shared love of the Modified Soumak and Figure 8 weaves. She's the one I credit most for helping me find my own path as a jewelry maker. But we have wildly different jewelry styles. Like, not even in the same ballpark. So it doesn't benefit me, design wise, to get too wrapped up in what she's doing.
Sure, I follow her on social media and I sometimes browse her jewelry shop, just for fun. One of these days, I'm going to treat myself to a Sarah Thompson original! I also occasionally pick up a new project from her tutorial shop, just to support her work. And, of course, I own both of her wonderful books, which I reference frequently and highly recommend: Fine Art Wire Weaving and Woven in Wire.
That said, there comes a point in every artist's journey when you have to veer off onto your own path. So, don't get too attached to any one jewelry artist. Including me!
I'm here to support and guide you at the beginning and intermediate stages of your wire weaving journey. But I fully expect you to eventually outgrow my tutorials. And I'll be over here beaming like a proud parent the day that you graduate from Door 44.
I can't wait to see the beautiful things that you're going to share with the world!
Discover More Behind Door 44
That's all for today's discussion. Thanks so much for joining me today! I hope you found this post helpful. Learning to create your own designs is hard work, but hard things are worth doing. So, go ahead and use other artists' jewelry for inspiration. Just make sure you follow the guidelines in this post when you do. And if you're looking for some fun jewelry tutorials that you can use for inspiration, be sure to check out my free jewelry tutorials.
As always, I'd love to see what you've made with the help of Door 44 Studios tutorials. And I eagerly look forward to hearing your ideas and suggestions for new tutorials and blog posts. Connect with me @door44studios on Instagram, and Facebook. Also, be sure to join my private Facebook Group where I'm available daily to answer questions about wirework and my tutorials.

Pin This Post for Later!