The Figure 8 Weave On Three Core Wires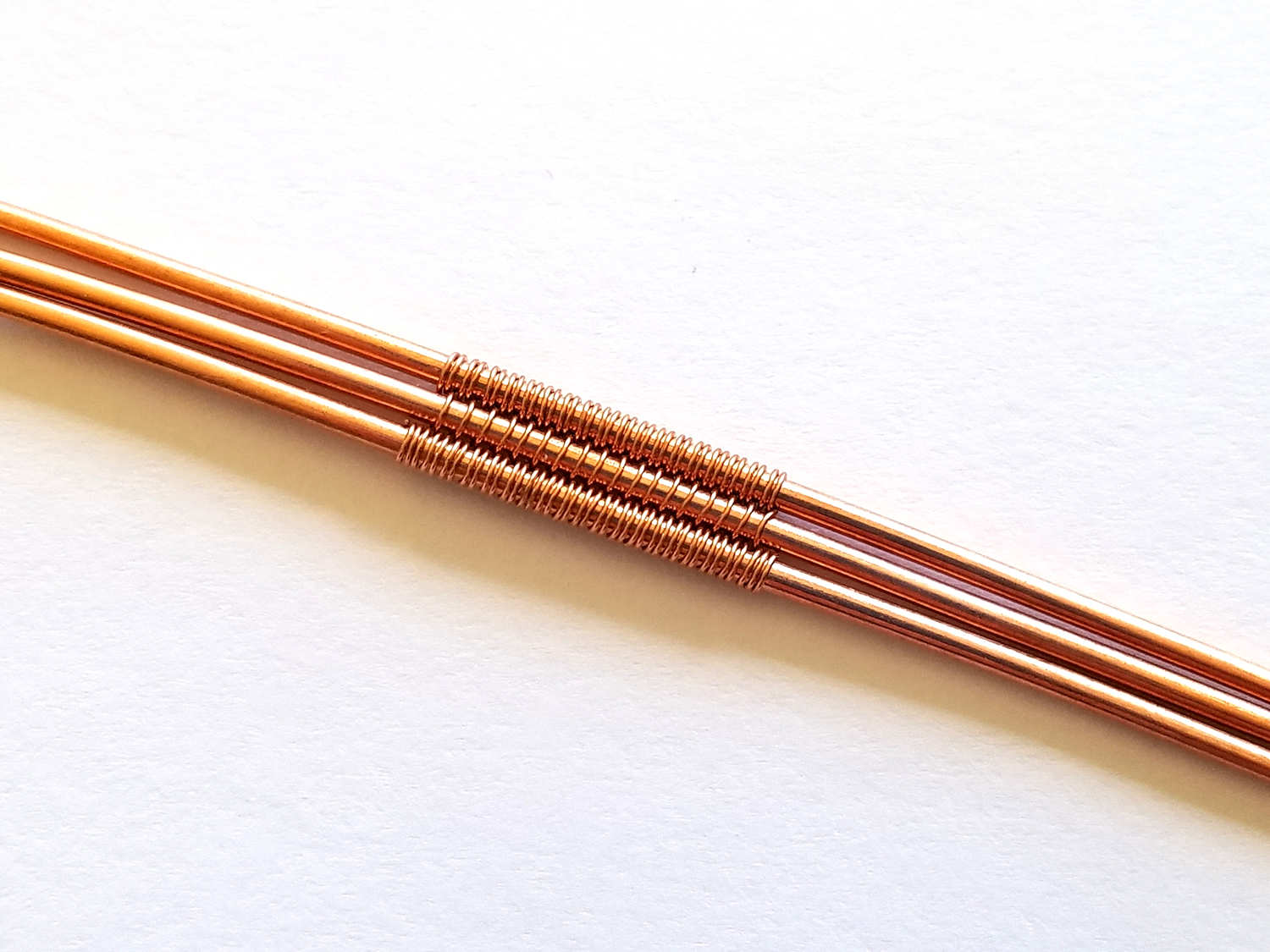 The Figure 8 weave on three core wires is particularly suited to helix-style jewelry designs. I say this for a couple of reasons. First, the Figure 8 weave naturally defines the shape of the core wires. That definition creates a unique and beautiful texture that feels more organic than a lot of other wire weaving patterns. And, of course, the helix is something we see frequently in nature.
DNA is the first example of a natural helix that comes to mind. But we also see the helix shape in plants and living creatures as well. Secondly, this weave twists more easily around the center core wire, compared to some other weaves that I've tried. I considered both of these factors when creating my Twig Pendant and Twig Earring designs. I wanted an organic shape that mimicked nature. And I needed a weave that would twist smoothly around the central core wire that secures the bead.
The Twig Jewelry Make-Along Series
The Twig Pendant Make-Along series on my YouTube channel is one of my most popular play lists. And this weave is one of two skills that you'll need to master in order to successfully make my Twig jewelry designs. The second skill that you'll need for the Twig series is balling the ends of wire with a torch. So, be sure to check out that post as well.
The Figure 8 Weave on Three Base Wires
I've put together a video tutorial for the Figure 8 weave using three base wires. And I demonstrate this weave for both left-handed and right-handed wire weavers in the video. It's so much easier to demonstrate weaves in a video format. Particularly when it comes to demonstrating right-handed weaving because I'm naturally left-handed. That means you'll start seeing a lot more video tutorials featured here on the blog. Video is simply a faster and more efficient delivery method for my content.
So, go ahead and watch my latest wire weaving pattern demonstration below if you're not already familiar with the Figure 8 weave on three core wires. Again, this is the weave that we'll be using for the upcoming Twig jewelry make-along series. It's an easy weave to do, but you'll have a lot more fun with the make-along if you fully master this weave before jumping into the Twig jewelry series.
TIP: Practice Weaving with Reusable Materials!
I use disposable wood chopsticks and waxed jewelry cord to demonstrate weaves in all of my tutorials. I pulled my chopsticks out of our takeout drawer. And of course I always have loads of jewelry cord on hand, but any string or yarn will do.
These materials are wonderful for practicing weaves because you can use them over and over again. And it's also much easier to see the pattern of a weave using these materials. Especially if you choose a string that contrasts with your chopsticks. So, grab some string and some chopsticks, and click below to weave along with me as I demonstrate this fun and easy weaving pattern!
Discover More Behind Door 44
Thanks so much for joining me today. I hope this blog post and the accompanying video tutorial help you quickly master the Figure 8 wire weave on three core wires.
Want to learn more wire jewelry techniques like this one? I like to share useful wire weaving tips and tricks on my social media channels, and we have some great conversations about wire jewelry on Instagram. So be sure to connect with me @door44studios on Instagram, and Facebook to keep up with what's happening behind Door 44. And if you haven't already done so, be sure to subscribe to my YouTube channel where I post new wire jewelry videos weekly!
Until next time, my friend, go make something beautiful!

Pin This Post for Later
Was this post helpful? If so, please help spread the word about Door 44 Studios by pinning this post to your jewelry making boards on Pinterest. Also, feel free to share links to my posts with everyone you know who wants to learn to make wire jewelry!