My Favorite Jewelry Supply Stores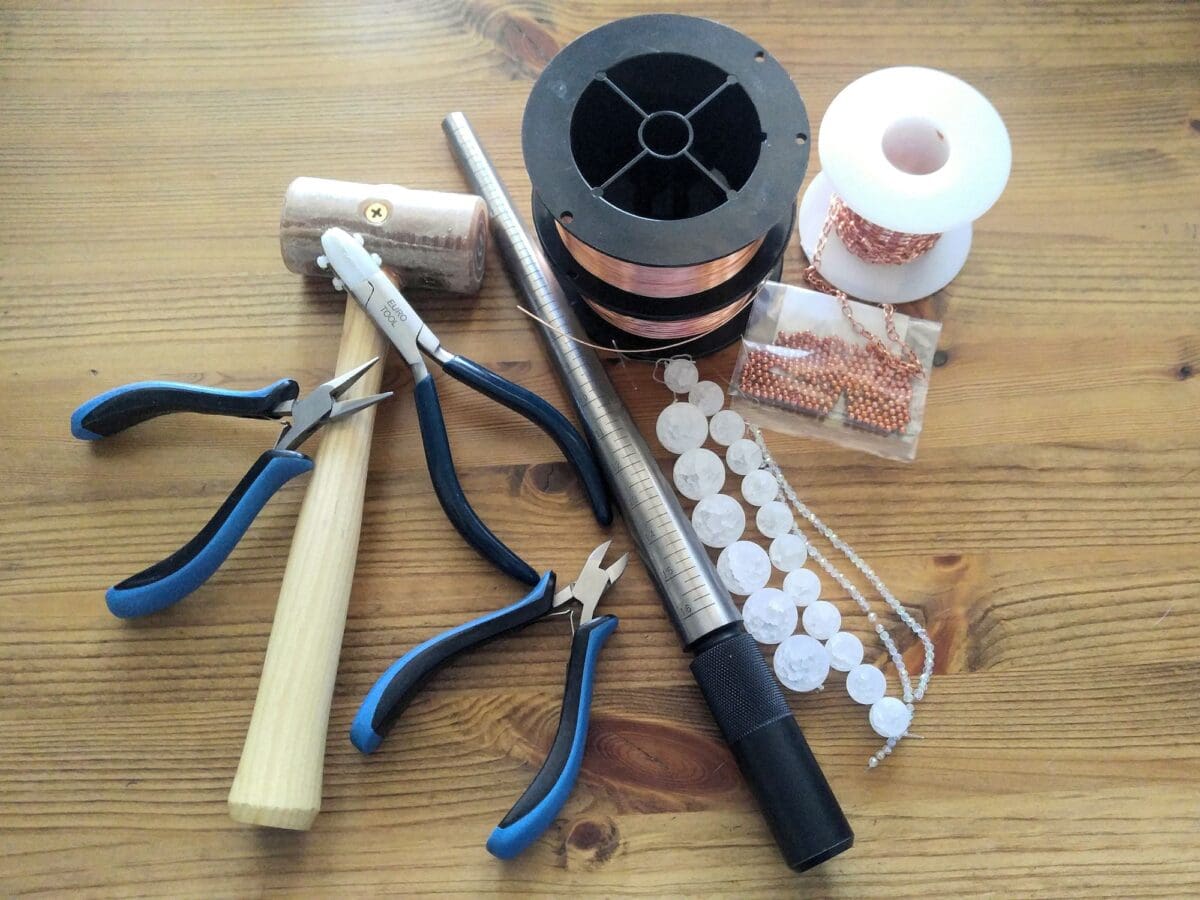 What's the first question that comes to your mind when you see a gorgeous piece of handcrafted jewelry? For me, that question is usually, "I wonder where she found those beads (or that chain or those cool jump rings, etc.). Well, I promised to teach you everything I know about making jewelry, and that includes sharing all of my favorite jewelry supply stores for tools and supplies.
So, let's talk about jewelry supplies!
This post may contain affiliate links. If you click on a link and then make a purchase, I may earn a small commission (at no cost to you). As an Amazon Associate I earn from qualifying purchases. To learn more, please see my full disclaimer.
Shop Your Local Jewelry Supply Stores (if possible)
Whether you're just starting out or you're a seasoned pro, shop locally as much as you can. Local spending is what creates the sort of vibrant communities in which we all prefer to live. Get to know your local bead shop. Buy as many of your supplies there as you can. If they don't carry what you need, ask them if they'll start carrying it. Or ask if they'll special order it for you.
I took a year off of all things jewelry in 2018 because I needed to regroup and figure out how to fit my passion for wire jewelry into my life without disrupting my entire household. Sadly, two out of three of the bead shops in my local area closed during that year. Now, I'm not suggesting that they closed because I stopped shopping there. I wasn't a big enough customer to have that much of an impact on those businesses; but it's clear that I wasn't the only regular customer who stopped shopping that year, and collectively, we did have an impact.
Shopping Tip!
Shop locally as much as you can. Local spending creates the vibrant communities in which we all prefer to live. Also, your local bead shop owner can sometimes get things for you that she doesn't normally carry in her shop for a better price than you can find elsewhere. Win/win!
Jewelry Supply Stores for Tools
I used to be a bit of a tool junkie. Tools are cool, and it's true that using the right tool for the job makes the job easier. It's also true, however, that you don't need every specialized tool out there to be a good jewelry maker. Only buy those that are right for you and your current workspace. In fact, the beauty of wire weaving is that you can do it with a pretty minimal set of hand tools. That is, in fact, why I started doing wirework, to begin with. I was a stained glass designer in my last creative life. Now, there's a craft that requires a lot of space! It's also quite messy, so it's not at all conducive to small-space living.
Consider Your Storage Space When Buying Tools
I'm an apartment dweller, currently, and my "studio" consists of a small work table where I keep my most frequently used tools within easy reach and some small drawer units and bookshelves that hold all my other tools and supplies. This tiny little space that is my current studio is actually one corner of the bedroom I share with my husband. That's it, pictured below. All of it!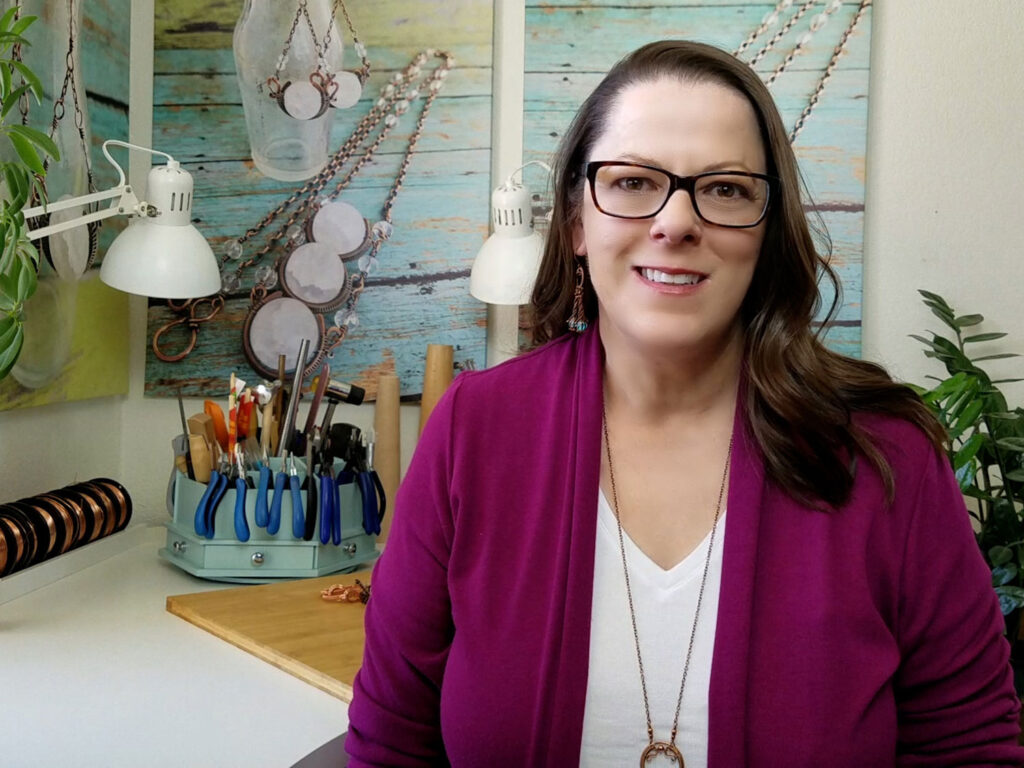 Working in a very small space has forced me to curb my tool addiction, and I've managed to transform myself from tool junkie to tool minimalist. Truth be told, it was also a major factor in my decision to make the switch from jewelry maker/seller to jewelry blogger. Small spaces are only livable when they're neat and tidy, and it was virtually impossible to keep my bench as clean as it is here when I was making finished jewelry for sale. There was work in progress on my bench 24 x 7. It never stopped, and the mess drove me crazy.
Tool Tip!
You don't need every specialized tool on the market to be a good jewelry maker. Only buy the tools that make sense for your current skill level, your budget, and your current workspace.
My Preferred Sources for Tools
So, where do I buy my tools? I pick up whatever I can from my local bead shop, whenever possible. When I can't find it there. I look to Rio Grande. Rio is, in my opinion, the best place to shop for tools. They don't always have the best price, but you're almost certain to find exactly what you're looking for there.
You do tend to get what you pay for when it comes to tools, so price usually isn't my main consideration while tool shopping. That's one area where I'm more likely to splurge a little. You don't need to spend a ton of money on tools, but do buy the best tools you can afford. This is especially true for pliers. Trust me — your hands will thank you. I'll be upgrading my own pliers soon as my old ones are long overdue for retirement.
Another good source for tools is Amazon. Once you've priced a tool at Rio Grande, be sure to compare the price on Amazon. Often, you can get the same tool at a better price. And don't forget to consider shipping costs. Rio's least expensive shipping option is around $7.00, so if you're an Amazon Prime Member, you'll save money on shipping alone.
And then there's Etsy. I like the idea of helping smaller companies support their brick and mortar stores by supplementing their income through Etsy. It's hard to keep the doors open on any small business these days. And that's especially true for brick and mortar stores. So, I've been buying more and more of my tools from JewelryTools.Com and Creating Unkamen
Jewelry Supply Stores for Wire
As I mentioned in my last post, not all wire is created equally. Craft wire is by far the most readily available wire on the market. You can even find it at your local Michael's, Jo-Ann, or Hobby Lobby stores. Unfortunately, craft wire isn't suitable for the kind of wirework that I do.
I use solid copper wire almost exclusively in my jewelry because I happen to love the look and feel of copper on my skin. I also prefer working with copper over working with silver. Copper isn't for everyone, though. I get that. Luckily, all of my designs work beautifully in either copper or silver. Or even brass, bronze, or nickel wire. To learn more about jewelry wire and why I recommend solid wire for my tutorials, read this post.
Rio Grande
Getting back to the point, I buy most of my copper and silver wire at Rio Grande. I purchase copper wire in bulk in one-pound spools. Because I make silver jewelry less frequently, I buy silver wire by the ounce. Rio's prices are based on the current metals market, which means that their prices fluctuate quite a bit. It also means that their prices are pretty competitive. If you pay attention to the market (and you should if you're selling jewelry for profit) you can sort of plan your wire purchases around downward market trends to maximize your profit margin.
Shopping Tip!
Wire prices fluctuate with the metals market. Get in the habit of keeping an eye on market prices and buy your wire when prices are trending down. Rio Grande has a metals price ticker in the upper left-hand corner of their website, so you can always see what the current market price is for precious metals. Base metal prices aren't listed, but they do tend to follow the precious metals market. So, when silver is up, copper is likely up as well.
If you're just a hobbyist, you may want to buy wire in smaller amounts. And in that case, Etsy is once again my go-to source for wire. I've found that Creating Unkamen seems to always have everything I need when it comes to wire. And the best part is that you can buy small 1/4-pound spools of pretty much every type of jewelry wire that you'll ever need. This is also a really great way to sample different types of wire without having to invest in bulk one-pound spools.
When I can't find what I'm looking for at either Rio Grande or Creating Unkamen, the next place I look for wire is Parawire. They also sell copper wire on one-pound spools (and silver wire by the ounce), and they have a very good selection of wire gauges. Metalliferous sometimes beats Rio Grande on price, too, so be sure to shop and compare if you're planning a big purchase!
Jewelry Suppliers for Chain & Metal Findings
It will probably come as no surprise by now to read that I buy most of my chain and metal findings at Rio Grande. Noticing a pattern here? I'm picky about chains. Because my jewelry is made of raw copper, I prefer to use chains that are made of copper as well. That way I can patina both the chain and pendant together to achieve a consistent finish. The same holds true for metal findings.
The plated base metal chains that you can find at your local bead or craft store will work fine if you're making jewelry just for fun, but if you're making jewelry for sale, this is definitely not the place to skimp on quality (I learned this lesson the hard way). Look for chains with soldered links, which dramatically improves the strength of the chain. And to whatever extent possible, try to match the metal of your chain to that of the wirework you plan to hang on the chain.
Shopping Tip!
Look for chains with soldered links, which dramatically improve the strength of the chain. The chains that you'll find in big box craft stores rarely have soldered links. So, they break easily.
Solid copper chain is rare, though I have managed to find some through the years (I buy it in bulk whenever I do run across it). It's more likely that you'll have to settle for a plated copper chain. Just make sure it has soldered links and a bright, uncoated finish which will take patina as well as solid copper. Sterling silver chain is readily available on the market. Just make sure you choose one that will enhance your silver wirework and not detract from it.
Use the Best Quality Chains You Can Afford
Chains are one type of supply for which you'll need to read the item descriptions very carefully. Whenever I specify chain in my tutorials, I'll link directly to the exact chain I used so you can get a feel for the qualities that I look for in chain. Findings, too, are more likely to be plated copper, so read the item description carefully. I always look for solid copper findings first. If I can't find that, I look for plated copper with a bright, uncoated finish so I can patina to match my wirework.
Shopping Tip!
Look for solid or plated copper findings with a bright, uncoated finish so you can patina to match your wirework.
Creating Unkamen
Creating Unkamen is, once again, a great source for hobbyists because they sell chain by the foot. And they have a nice selection of chains that match all of the wires that they carry.
Parawire
Parawire is another good source for chain and metal findings. This company has grown dramatically since I started making wire jewelry. They're much more competitive now than they used to be when it comes to wirework supplies. Always shop and compare to make sure you're getting the best quality materials for the best price.
Jewelry Supply Stores for Beads
Bead shopping. That's what really makes us makers tick, right? I don't know about you, but a big chunk of my design inspiration comes directly from browsing beads. Again, my recommendation is to see what your local bead shop has to offer first. Build a good working relationship with the store owner. These folks can be your best resources for information as well as for supplies.
Some of my designs require gemstone beads with hard to find hole positions. I never would have found my main supplier for those beads were it not for the generosity of one of my local bead shop owners. She graciously directed me to one of her own wholesale suppliers when it became clear that she couldn't meet my supply demands.
Wholesale vs. Retail
Unlike wire (and to a lesser extent, metal findings), beads are an area where wholesale versus retail pricing can have a really big impact on your bottom line. So, this is an area where you need to seriously think about what sort of jewelry business you want to run.
Are you making bespoke, one-of-a-kind pieces? Or are you making simpler designs, like mine, that can be easily repeated? Are you aiming for a specific niche market, such as bridal jewelry, or is your target market more mainstream?
Your answers to these questions are going to make a difference in where and how you shop for beads. When I was making jewelry for retail sale, I shopped mainly with wholesalers or retailers who give steep discounts for larger volume purchases. The prices for Swarovski pearls, for instance, vary wildly from one supplier to another.
Glass Pearls
Believe it or not, I usually find the best prices for glass pearls at Firemountain Gems & Beads, but only when I buy in quantities sufficient to qualify for their maximum discount. Now, I'm not here to knock any jewelry suppliers out there, but Firemountain doesn't connect immediately with quality in my mind. A lot of the stuff they sell is on par with the made-in-China supplies you'll find in cheap trade magazines. Nonetheless, this is an online supplier that I do recommend keeping on your shortlist. Because of their bulk discounts, and because they carry so many different items, they can be a viable source for certain tools and supplies.
Consider Quality Over Quantity
Just keep in mind that the quality of the materials you choose will have a direct impact on the perceived value of your jewelry. Stick to Firemountain's "designer quality" beads, and be sure to read the descriptions very carefully. They also have really good customer service, so call (or chat) if you have questions. It's never fun to buy something you really weren't sure about, only to discover that it's not what you wanted once it gets to you.
Shopping Tip!
Always buy the best quality materials you can afford in quantities that make sense for the volume of jewelry that you produce. A hobbyist may only need a handful of a particular type of bead, which can be found at a local bead shop or on Etsy while a professional maker who produces higher volumes may need to buy those same beads in bulk from a wholesaler.
If you're in the business of selling multiples of a single design, you'll want to buy in larger quantities at a smaller unit price than someone who is just making jewelry for fun. Are you making one necklace or one hundred necklaces? Your answer to that question will help you determine if you need to be buying beads wholesale or not.
Gemstone Beads
As I mentioned earlier, many of my designs that utilize gemstones require non-standard hole placement. My main supplier for gemstone beads is Cherry Tree Beads. Chances are, your local bead shop buys their gemstone beads from this supplier. They're one of the major wholesale suppliers (at least here in the Rocky Mountain Region) that I know of. They're also the only supplier I've found that sells top-drilled coin beads, which are crucial for a couple of my jewelry designs. When I specify gemstone beads in my patterns, the beads I used most likely came from Cherry Tree. If you want to get really inspired, check out their selection of large gemstone focal beads!
Other Favorite Gemstone Sources
Another wonderful source for gemstone beads is Rock Paradise. Beads are not this store's primary focus. They're really more of a rock shop, so you'll find a lot more there than just beads, but they do have a fabulous (and ever-changing) selection of gemstone beads. This is the first place I look for the carved gemstone skull beads that I use in my Ancestor Pendants.
When I'm looking for standard gemstone beads and micro faceted beads, I usually turn to either Stones Direct or Fabulous Rocks, both of which I discovered on Etsy. I've yet to be disappointed with a purchase from either of these two shops.
You'll notice that all three of the stores I linked to above have Etsy storefronts in addition to their own websites. Etsy is a great place to find gemstone beads. Just pay attention to where those beads are coming from. I try to limit my purchases to stores that are based in the US.
Czech Glass Sources
If you're looking for Czech Glass beads, your best bet is to check your local bead shop or Etsy. A lot of the larger bead suppliers like Fire Mountain and big box craft stores like Michel's or Hobby Lobby tend to carry low quality Czech Glass beads. But I've bought a lot of beads from Etsy shops through the years, and I've had much better luck finding top notch Chezh Glass.
A few of my favorites are Arte Bella Surplus, GR8BEADS (The Bead Obsession), and (for my Canadian friends) Bobbi This N That. All three of these shops have a wonderful selection of Czech glass beads, and their customer service is superb.
Hopefully, I've introduced you to some new jewelry supply stores with this post. What are your favorite jewelry supply stores? If you know of any that I didn't mention, please share them in the comments!
My Favorite sources
Shopping Links
TOOLS:
WIRE, CHAIN & FINDINGS:
GEMSTONE BEADS:
CZECH GLASS BEADS:
Discover More Behind Door 44!
Thanks so much for joining me today. I hope you found some new resources for wire weaving tools and supplies. If you're interested in learning more about wire weaving tools and supplies, you'll find several more related articles here.
Also, be sure to check out my Etsy shop for the latest ad-free printable PDF wire jewelry tutorials. As always, I'd love to see what you've made and hear your ideas and suggestions for new tutorials and blog posts. So, be sure to connect with me @door44studios on Instagram, and Facebook.
Until next time, go make something beautiful!

Pin This Post for Later